Bulk Email Server Guide: Integration with PowerMTA
I don't know why but this is where most of the people get stuck. It is probably because they are tired and already have enough of things they aren't used to do. Maybe it's a good idea to take a break. Maybe even stop for today and go out, go watch a movie or play a game.
The truth is that this step is really simple and if it didn't exist the whole Mumara to PowerMTA connection step would need about 10 steps to cover everything. Since Mumara is smart enough it will do most of the hard work for us. There are some things that need to be fixed for everything to work but nothing harder than copy/paste.
First, go to 'Integrations > PowerMTA Settings' and click on + to add a new PowerMTA server. Now it depends on, are you using local or external (recommended) PowerMTA. Basically, it's the same you just have to change the IP. The picture below shows how I set up local PowerMTA.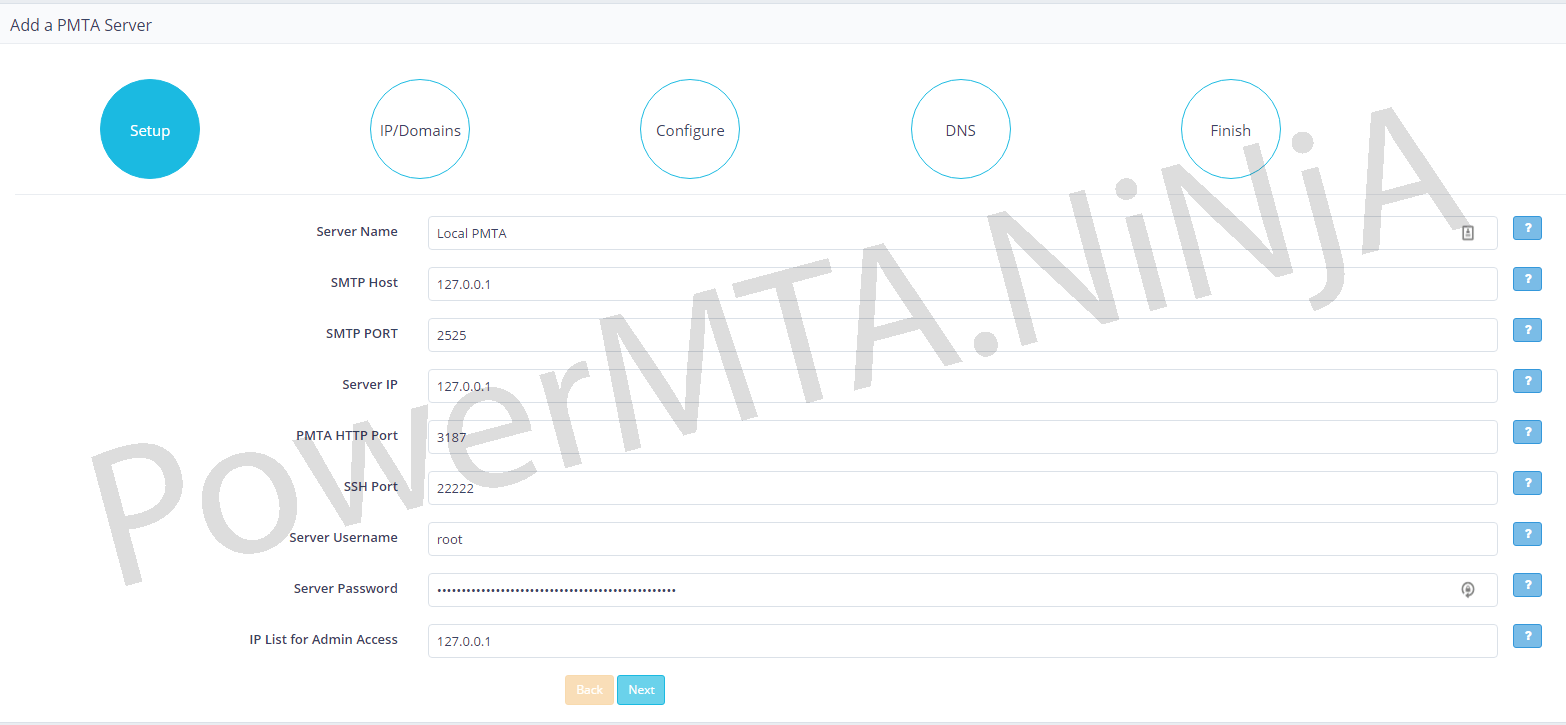 If you are using local PowerMTA you can enter everything apart from root pass (another smart one) exactly like in the picture above. If possible always use localhost and run everything on localhost only. Of course, this isn't possible in case of external PowerMTA. In that case, adjust all IPs. When done with everything click 'Next'. Unforgenetly you won't see to the very last integration step if you entered everything correct.
In step 2 enter your IPs and domains separated by commas to appropriate boxes. Make sure the are in the same order as you assigned them in control panel to save time in the next step. Do everything else like in the picture below. When done click 'Next'.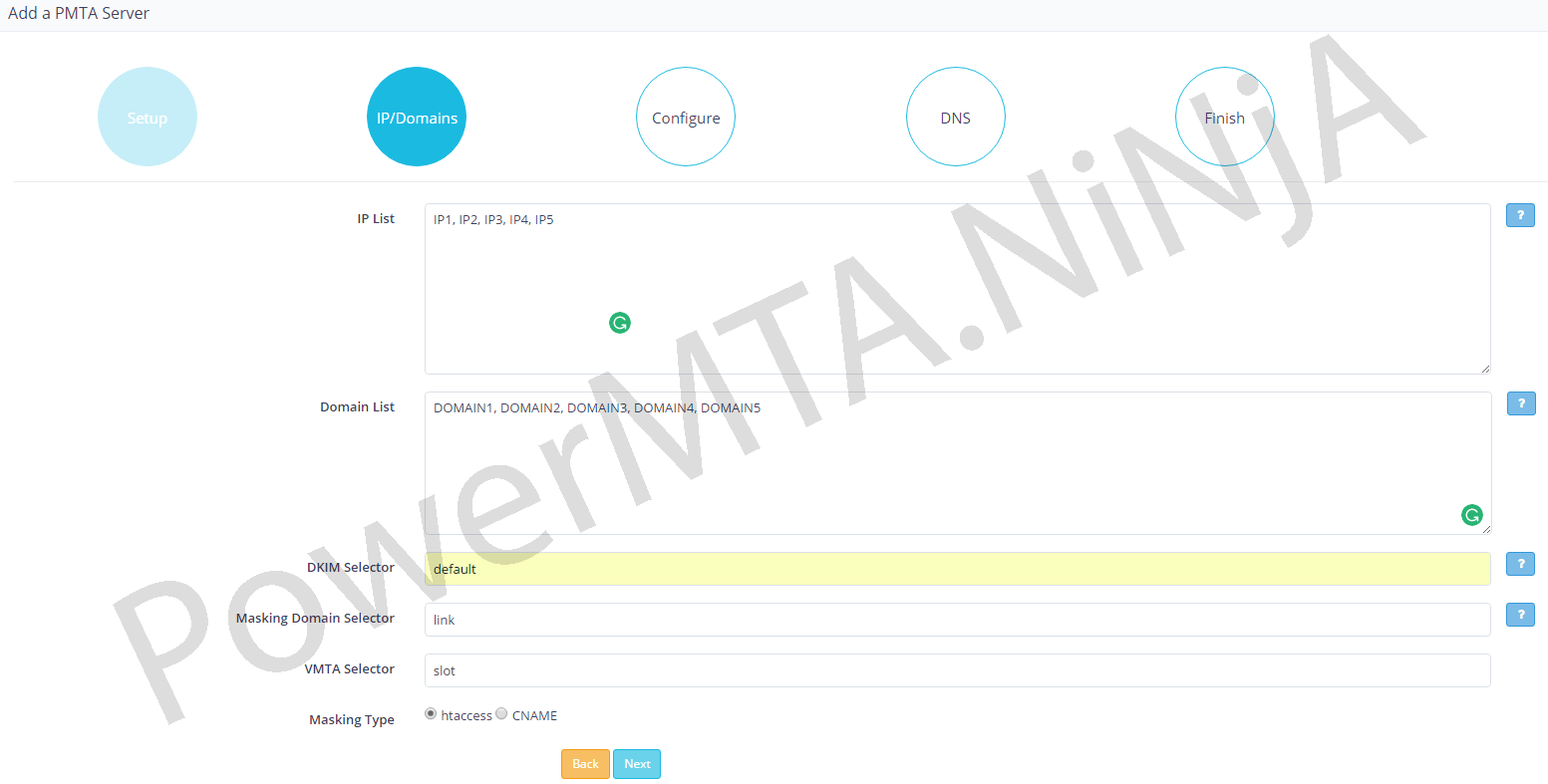 Since you followed my tip and entered IPs and domains in the same order you assigned them in control panel the only thing to do in step 3 is to enter all necessary data for each SMTP. For group I usual just copy/paste domain name. Enter From name, From email, and Reply email and leave everything else as it is. No picture here since this is easier than setting up an account in Outlook. When done click 'Next'.

[/sociallocker]

In Step 4 there is nothing to do so just click 'Next'.

In Step 5 you will finally see if the info you provided in step 1 was correct. In a case of errors go back and correct your mistakes. If the connection was successful just click 'Next'.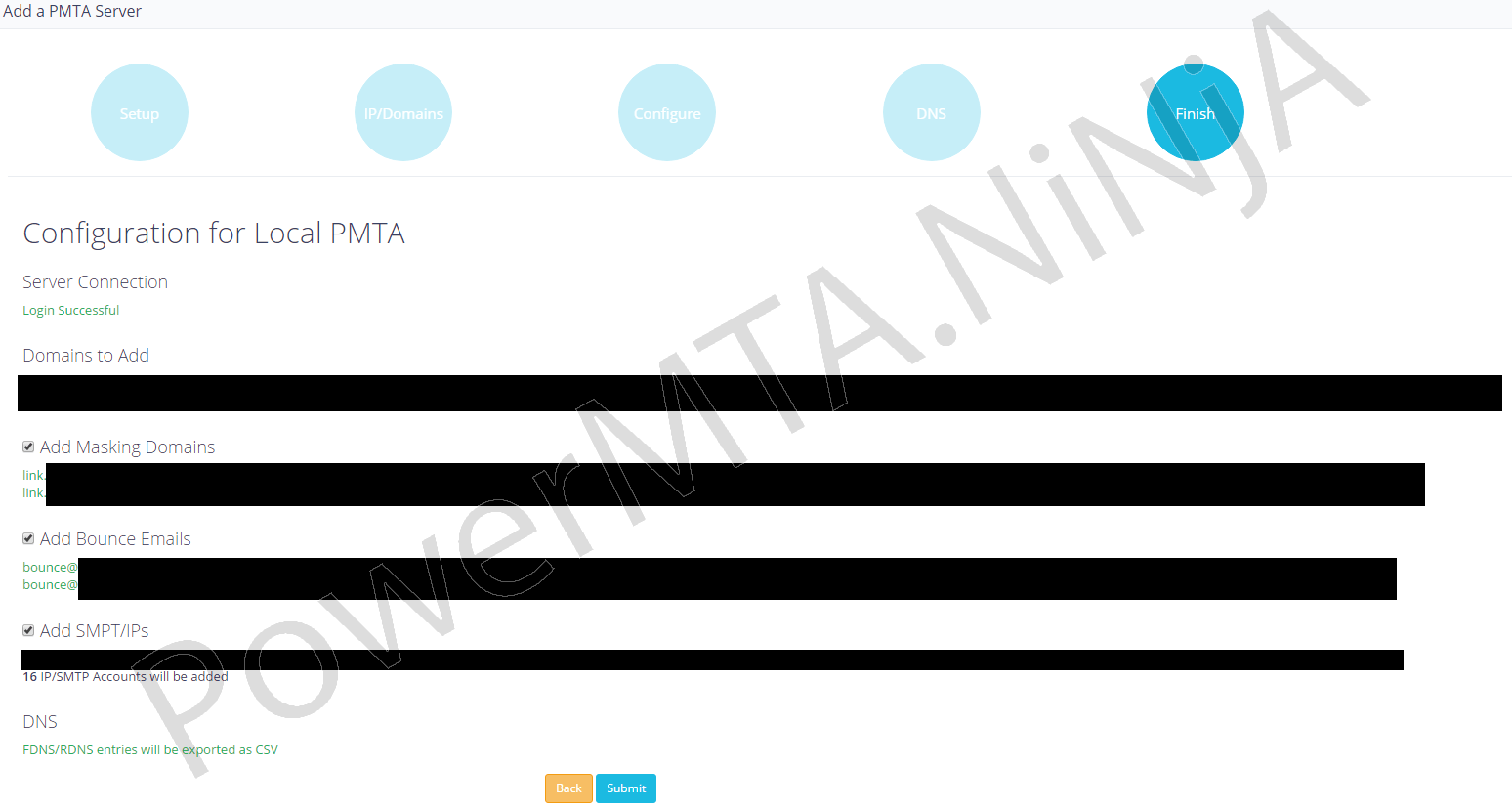 If you did everything correct you will see something similar as on picture below and a file called pmta_server.zip will be downloaded. Save this file as you will need it later. Here is its content
Bounce.csv - infor about your bounce accounts
DKIM.txt - all your DKIM records
FDNS.csv - your reverse DNS
htaccess.txt - we will need this for domain masking
pmta_config.txt - defoult PowerMTA config file that Mumara creates. Unforgenetly PowerMTA will not start when using this config, but we'll fix this later.
SMTP.csv - info about your SMTP accounts

That is it. Your Mumara is connected to PowerMTA. You should be able to send your first email from Mumara but I don't recommend to do it yet. Your configuration is far from perfect.To make it perfect there are still things we must do.
This tutorial is a part of complete Do It Yourself Bulk Email Server Guide. If you are interested in starting with email marketing or want to improve your delivery, open and click rates I recommend that you follow it from the beginning. Almost 15 years in this business and many, many tests show that this is the best long-run solution for every mass email sender with double opt-in, scraped or bought list.
Join Hundreds of Happy Email Marketers!
Integration with PowerMTA