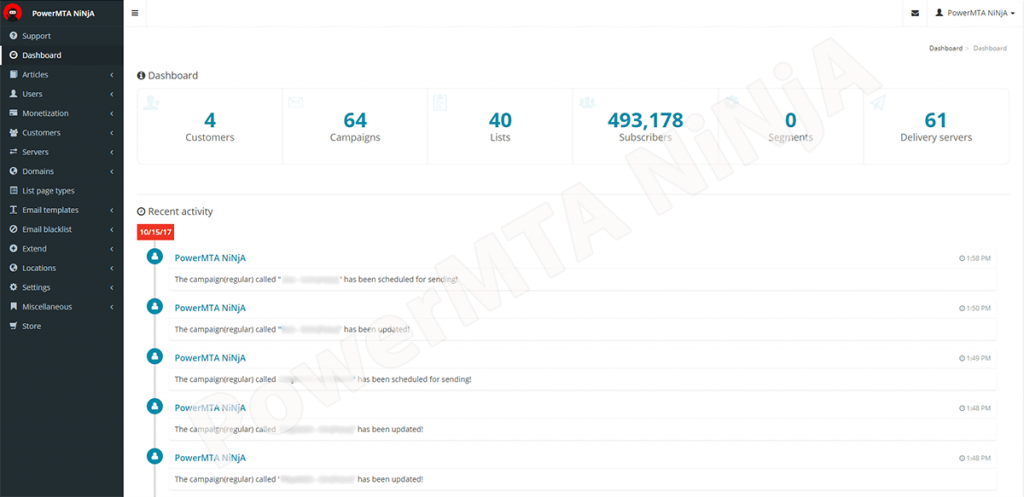 MailWizz Installation and Configuration
by PowerMTA NiNjA
Looking for a reliable and professional MailWizz installation services? You came to the right place so relax grab a cup of coffee or tea and read on.
We'll go over the process of MailWizz installation and configuration so you will know exactly what you need and what you'll get in case you decide to order MailWizz installation from me.
What is included with MailWizz Installation?
Setup and configuration of 1 or more servers
Licensed MailWizz; I will buy a license for you if you don't provide your own
MailWizz installation and configuration
MTA installation and configuration (PowerMTA or Postfix)
DKIM, DMARC, SPF, unsubscribe headers, FBL processing, Google postmaster header, ...
15000 credits to check your lists for spam traps and other risky contacts that are known to report spam
Warm up guide; You can't or at least should not start sending at full speed on a new system. My warm-up guide will teach you how to start and how to increase sending limits every day to help your delivery to the inbox.
Guide how to use your new system
What is not included with MailWizz Installation?
A video of your installation, this is how mistakes are made. I am installing MailWizz and MTA software manually and I need to be relaxed and concentrate on what I am doing. And I am also multitasking and have active chats, connections to other servers, etc so a video of installation is just impossible to make.
What do you need to start with MailWizz Installation?
Before I can start with setup and configuration of your email server(s) you will need at least:
Keep in mind that this are the minimal requirements. Of course, I suggest you go with something like this:
1 VPS with 11 IPs
11 domains
In this case, 1 domain and IP will be used for MailWizz installation and other 10 will be used for your bulk sending. This is a good solution if you are on a budget. If however, your budget allows I would suggest something like this:
1 VPS with 1 IP and at least 16GB RAM
10 budget VPS each with 1 IP and 1 GB RAM
Why is this better?
Well, I don't know what and who you are going to email but it could happen that people will think you send spam and will report you to your VPS provider. It could also happen that VPS provider will shut down your server. With above setup, you can at least make all this a bit less annoying. Read my bulk email setup guide for more info about this.
If you spread your sending server across a few VPS provider chances of your whole sending network be taken offline are almost impossible. Your main, the more powerful server where MailWizz is installed will never be taken offline since it will not do any sending at all. Your lists, campaigns, statistics will be safe. If it does happen that a server will be taken down due to spam complaint it will only affect 1 of your 10 sending servers so sending will continue and you could have a new sending server up and running in less than 1 hour.
Believe me, this is the best solution in case of the worst-case scenario. It also allows you to easily scale up/down if needed. Of course you can also go with 1 server where MailWizz is installed and for example 5 VPS each with 10 IPs. It's important that server with MailWizz isn't sending.
How do I order my MailWizz Installation?
Use the form below to get the estimate for your installation
In will contact you and tell you how to start
If you don't have your servers yet I will give you a few suggestions where to buy them and still stay on budget
We will also discuss a date of your installation and final delivery
You will make a payment
I will start with MailWizz installation and configuration of your bulk email network
I will send you all logins and ask you to change all passwords
MailWizz EMA is a simple to use, efficient and full-featured email marketing application with impressive features set. With MailWizz not only that you will be able to properly handle email marketing for your own purposes but you can also become an Email Service Provider for your customers, since MailWizz integrates easily with payment gateways like Paypal and it offers all the needed tools to create pricing plans, promotional codes and to manage orders and transactions created by your customers.
Simply put, MailWizz is a newsletter system like no other out there. It's fast, it's full of features for which you'd have to pay top money otherwise, it's actively developed, it's well established, has great support and most of all, it's very affordable. There are a number of businesses that rely heavily on MailWizz, so you get a well-tested system as well.
After a completed MailWizz installation, you simply get unlimited everything!
You can send an unlimited number of email campaigns (newsletters) to an unlimited number of lists containing an unlimited numbers of subscribers.
If you handle newsletter for multiple websites, you can treat those as customers and have unlimited too!
PowerMTA™ is an enterprise-grade infrastructure application for high-volume email built to address the challenges of digital messaging and integrated customer communications. PowerMTA™ provides unsurpassed reliability and delivery execution in a stable SMTP environment with granular connection controls. Superior message throughput simplified set up and configuration and real-time analysis provide our clients with performance, deliverability, and manageability without any further investment in hardware.
Postfix is a free and open-source mail transfer agent (MTA) that routes and delivers electronic mail. It is released under the IBM Public License 1.0 which is a free software license. Originally written in 1997 by Wietse Venema at the IBM Thomas J. Watson Research Center and first released in December 1998, Postfix continues as of 2017 to be actively developed by its creator and other contributors. The software is also known by its former names VMailer and IBM Secure Mailer. In March 2017 in a study performed by E-Soft, Inc., approximately 33% of the publicly reachable mail-servers on the Internet ran Postfix.
As an SMTP server, Postfix implements the first layer of defence against spambots and malware. Administrators can combine Postfix with other software that provides spam/virus filtering (e.g., Amavisd-new), message-store access (e.g., Dovecot), or complex SMTP-level access-policies (e.g., postfwd, policyd-weight or greylisting).
As an SMTP client, Postfix implements a high-performance parallelized mail-delivery engine. Postfix is often combined with mailing-list software.
MailWizz Installation and Configuration